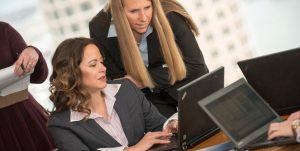 Summit Consulting leverages extensive instructional design and training delivery experience, transformative project management engagements, and a passion for results to provide our clients with customized learning and development programs.
Learning and development is an ongoing investment in employee skills and competencies to optimize contributions in their current roles and prepare them for promotion. We work with teams who are just starting to create their learning and development programs and with teams who need help structuring and communicating how activities and resources contribute to a comprehensive program.
The Summit Consulting team works with you, your leaders and employees to define the goals for your program and develop strategies to deliver on those goals. We develop learning and development solutions to meet current and future needs and help employees understand career paths within your organization. Our consultants partner with teams to evaluate existing learning and development components and resources and identify gaps to recommend a comprehensive solution that meets defined objectives.
Our expertise in training, change management and communications supports the solutions we propose.