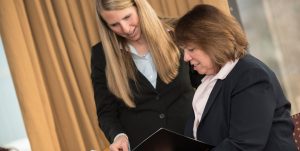 Summit Consulting leverages extensive Fortune 20 change management engagements, transformative project management experience, and a passion for results to provide our clients the tools to manage the change process.
Guiding you across the challenging environment of change, we partner with all levels of your organization, helping you confidently make change decisions and ensuring change is successfully implemented.
With the change initiatives' intended business results fully in mind, we design and implement a plan that ensures those results are realized. We build a comprehensive strategy to make sure we are standing at the top of the summit, the end state. Through the development of detailed change management plans, including the tools and change processes to get you there, you will not only meet the goals of your change initiative, but exceed them.
1. Address the people side of change
With any transformation, roles or the organizational structure may change, new skills may need to be developed and different leaders must be asked to step up. Colleagues could be uncertain, resistant, fearful, resentful, or all of the above. Proactive strategies are needed to mitigate these risks. A formal approach for managing the change should be developed early and revisited often. This demands the same rigor with respect to data analysis and implementation planning as a does a redesign of systems, process or strategy. A realistic assessment of an organization's capacity for change is also needed.
2. Align your leaders
Colleagues within an organization will look to their leaders for direction and support during a transformation. Leaders themselves must embrace the change and be aligned on what the change means for their teams. A unified voice and modeling of behavior can be the difference between a successful change and one that takes years and years going significantly over budget without achieving intended results. Alignment and commitment to the direction of the change and a deep understanding of how the organization's culture can either accelerate or impeded change are important factors for a successful change that needs to begin at the top.
3. Collaborate with all impacted layers of management
Change management planning should include plans for engaging leaders across an organization and defining accountability for driving change within those organizations clearly to leaders and managers. This way, change cascades throughout the company and stakeholders are motivated to make the change happen.
4. Engage your stakeholders
Preparing your stakeholders for the impacts of change is a critical step is in the process. A thorough analysis of stakeholder roles and involvement in a project's success is important in addition to a strategic engagement plan to ensure there is adequate understanding and commitment to a change across the organization.
5. Make the business case
Colleagues will want to know to what extent a change is needed. They may question whether the company is headed in the right direction or whether they want to commit personally to the change. They will ask these questions to their leadership. Effectively articulating a formal case for change and alignment around the vision are essential components to both the alignment of leaders and engagement of stakeholders. Leaders need to convince of the need for change, demonstrate that the leadership team in place can navigate the change journey and provide a road map and plan to guide decision making to get there. These messages need to be customized depending on the audience, always bringing back to message to the individual who receives it.
6. Create a culture of accountability
Successful change demands ownership by leaders willing to accept responsibility for making change happen in all of the areas they influence or control. Ownership is often best created by involving people in identifying problems and creating solutions. Rewards and recognition can reinforce this commitment.
7. Communicate the vision. Communicate early and often.
Too often, change leaders make the mistake of believing that others understand the issues, feel the need to change, and see the new direction as clearly as they do. The best change programs reinforce core messages through regular, timely advice that is both inspirational and practicable. Communications flow in from the bottom and out from the top, and are targeted to provide employees the right information at the right time and to solicit their input and feedback. Often this will require communication through multiple, redundant channels.
8. Develop change strategies to align to the culture.
Companies need to keep culture at the forefront. Often, culture is assessed too late or not at all. Successful change programs ensure leaders understand and account for behavior within their organizations. A cultural assessment identifies organizational readiness for change, barriers, risks, potential conflicts and can bring issues to the surface. It also can identify factors that may help accelerate change. This includes core values, beliefs, behaviors and perceptions of different groups within an organization.
9. Prepare for the unexpected and have project management tools in place to address.
Change never goes completely according to plan. You must expect the unexpected. Colleagues react in unexpected ways. An organization faces additional change that was not on the horizon at the time of planning. Effectively managing change requires continued assessment of change impact a company's willingness to adapt. Sometimes adjustments are necessary to maintain momentum in order to achieve the desired results.
10. Reach the individual colleague.
Change is both an organizational journey and an individual one. People need to know how the change impacts them. Will their role change? Their responsibilities? Their team? Their leader? People are often unsure of what is expected of them before and after a change. They want to know how their success will be measured. Leaders need to be as open and honest as possible with individuals during the entire process, even if that means letting people know some of this is still being worked out. People will react to what they see and hear around them, and need to be involved in the change process.