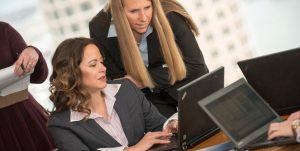 Summit Consulting leverages extensive Fortune 20 change management engagements, transformative project management experience, and a passion for results to provide our clients the tools to communicate effectively.
Communication is about telling a story. There are points within the story that need to be emphasized through repetition. The person delivering the message should be relatable and trustworthy. Communication is also about listening. Equally important are the sending and receiving parts of the communication process.
What is the one thing that you want everyone to walk away knowing after your communication is complete? You need to think about your audience and target the communication to their needs. How does your message need to be modified to suit different audiences? If you are a large organization relying on communication cascades, how will you measure the effectiveness of these cascades?
Communication should be engaging and inspire action. An effective communication strategy is supported by a clearly defined and carefully managed communication plan containing communication goals, key messages, and a schedule of communication events including the audience, communication type, timing and frequency of communication, and the communication deadline. The seasoned communication professionals at Summit follow the 7-step methodology highlighted below.